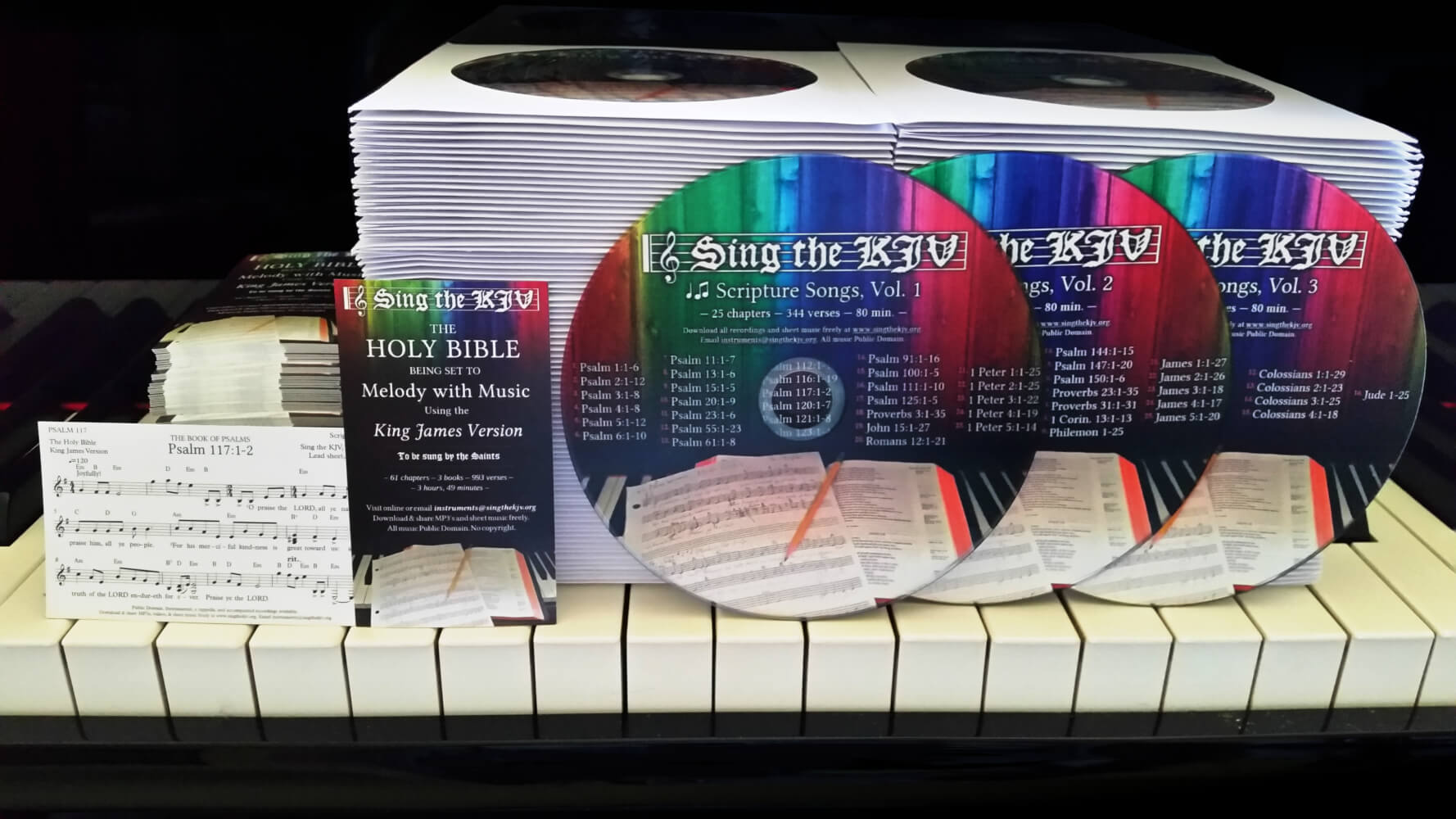 Sing the KJV CDs and business cards
It is our pleasure to freely give CDs to those who would enjoy listening to them, shipped at no cost to you.
To order, send a personal email to us at
[email protected]
letting us know which CDs you are interested in, how many of each and your mailing address. Also, we would be happy to send you 'business cards' that you can hand out to others who may be interested in visiting the website and/or listening online.
All music is public domain, so you are welcome to duplicate and share with your friends.
CDs available:


My Offering: A compilation of original songs and old hymns entitled "My Offering" which you can browse/download on the Spiritual Songs page.


Scripture Songs Vol. 1: Psalms 1, 2, 3, 4, 5, 6, 11, 13, 15, 20, 23, 55, 61, 91, 100, 111, 125, Prov 3, John 15, Romans 12, I Peter 1, 2, 3, 4, 5


Scripture Songs Vol. 2: Psalms 112, 116, 117, 120, 121, 123, 126, 128, 129, 131, 139, 141, 143, 144, 147, 150, Prov 23, 31, I Cor 13, Philemon, James 1, 2, 3, 4, 5


Scripture Songs Vol. 3: Ruth 1-4, Psalms 9, 38, 73, Proverbs 1, 2, 11, 12, Colossians 1-4, Jude


Scripture Songs Vol. 4: Psalm 8, 14, 17, 22, 67; Proverbs 2, 10; Isaiah 1-4; 1 John 1-5; 2 John 1; 3 John 1


Scripture Songs Vol. 5: Psalm 24, 26, 29, 39, 31, 33, 133; Proverbs 4-6; Malachi 1-4; Matthew 5-7


Scripture Songs Vol. 6: Psalm 39, 41, 46, 93; Proverbs 7-9; Song of Solomon 1-8; Romans 5-8


Scripture Songs Vol. 7: Psalm 34, 35, 36, 52, 53; Proverbs 13-15; Hosea 1-5; Hebrews 1-5


Scripture Songs Vol. 8: Psalm 39, 47, 48, 49, 50, 62; Proverbs 16-19; Hosea 6-9; Hebrews 6-9


Scripture Songs Vol. 9: Psalm 63, 64, 84, 87; Proverbs 20-22; Hosea 10-14; Hebrews 10-13


Scripture Songs Vol. 10: Psalm 37, 45, 51, 65; Proverbs 24-25; Isaiah 5-6; Ephesians 1-6


A Cappella CDs available (duplicates of Volumes 3 and 4 above):


A Cappella Vol. 3


A Cappella Vol. 4